We have saved the Railway Arms Pub
The news everyone has waited for: the pub opened for business on Friday 16th April at 4.00pm!
We look forward to welcoming you soon.
See the report in the local paper about the pub's opening.
Give your views on what you would like the Railway Pub to offer its customers:
Our Campaign
Formerly the Railway Hotel, The Railway Arms in Saffron Walden has stood in the shadow of the old, now closed, Great Eastern branch line since 1865 and is a pub close to the hearts of many in the local area. Situated on the edge of the town centre on the corner of Station Road and Station Street, the pub was renowned for serving some of the best cask conditioned ales and good pub grub to the regulars of the local area.
Featuring in CAMRA's Good Beer Guide for many years, the pub was the centre of the community from near and far and is still fondly remembered worldwide by old students of the nearby language school who were regulars back in the day. Indeed the former landlord of the pub from 1958 to 1998 – Jim Jordan – was awarded the OBE for his tenure at the pub and is remembered by being named on the nearby 'Jordan Close' just along from the building.
After being purchased by Charles Wells around 2014, the new owners closed the doors to the pub on New Year's Day 2017.
Since then our campaign to save this much-loved community hub has sought to re-open the building as a Community-run pub.
The building was granted Asset of Community Value (ACV) status by Uttlesford District Council in 2018 and through the formation of Saffron Walden Community Pub Ltd (SWCP). 
Since the owners, Charles Wells, decided to put the Railway Arms up for sale, again, we have been fundraising with the aim to make a fully funded bid to purchase the pub as soon as possible before the end of May.
To date we have 289 shareholder members from the first share issue in 2017 who hold total share capital of £173,350 and 50 people, including existing shareholders, who have made pledges totalling £28,700.
We need to raise a minimum of £250,000 to be in a position with our other funding to make a fully funded bid and have launched a second share offer.
Full details are in the share prospectus that has been awarded the Community Shares Standard Mark that has been awarded to show this offer document meets national standards of good practice
Ten good reasons to purchase shares on Saffron Walden Community Pub Ltd
You will be helping to save a much-loved community asset for this and future generations.
The Railway Arms will be more than a pub, providing a range of other facilities such as lunch clubs, a local book exchange, drop-in day centre, function room, a community garden/ orchard, a men's shed/ repair workshop, community café and shop and post office.
You will be investing in a pub that encourages community involvement and participation in local events and is at the heart of the local community.
Not only are you investing to save a valuable community asset, you will also receive interest at a rate higher than 2% above the Bank of England Base Rate. Shareholders approve the rate of interest each year following a recommendation from the Management Committee who are proposing an interest a rate of 3% for the first year of trading.
Under the government's incentive to encourage investment in new community enterprises, if you are a tax payer, you may be able to claim tax relief of up to 30% of the cost of your investment against the tax you pay in the current and previous tax years, i.e. every £1 invested will effectively cost 70 pence."
A sound investment, community pubs are run on a different low-cost business model to other pubs and, to date, no single community pub across the UK has failed.
A pub where the community has a say in its operation, its offering and pricing that is accessible to all members of the local and wider community.
A pub that provides a range of well-kept beers, ciders and food and supports local shops, microbreweries and other enterprises.
A pub that provides life skills and employment training opportunities particularly to vulnerable groups.
A family friendly pub where members of the local community feel welcome that helps reduce social isolation and builds social cohesion.
[It is important you read the Share Prospectus before deciding to buy shares]
 or
If you would like to become a shareholding member either complete the ONLINE SHARE APPLICATION FORM or print, complete and return a PDF Share Application Form/MS Word Share Application Form. 
If you would you just like to be kept involved of our campaign or sign up to our newsletter  email us through the contact page.
Also see the latest MODEL RULES, BUSINESS PLAN and COMMUNITY BENEFIT PLAN to find out the latest information about how the pub will be run.
How to Save the Railway Arms Pub
Our vision is for the Railway Arms to be the first community pub in Saffron Walden to be owned and run by the community for the community.
The Railway was officially registered as an Asset of Community Value (ACV) at a district council meeting on 30th March 2017.
We now have already raised substantial funds in share applications, grants and loans, which puts us on a great footing as we attempt to buy the Railway Arms.
We need to raise more and are launching a second community share offer to put us in a position to make a bid.
If you are an existing shareholder, individual, company, charity or other corporate body, you can purchase shares and join the current members in saving the pub
Take a look at our Facebook page and Twitter feed for regular updates on the campaign.
NEW SHARE SALE OFFER NOW OPEN – DEADLINE 31ST OCTOBER 2020!
You can download our governing document [Model Rules], Business Plan, Community Benefit Plan and Share Prospectus below.
Please also fill in a Questionnaire to tell us what you'd like to see in the new pub. 
Thank you very much for your support.
How much is raised so far?
The total figure of £202,050 represents money raise from those who have purchased shares alongside the pledges received from those wishing to buy shares in the second share issue.
What is a community share issue?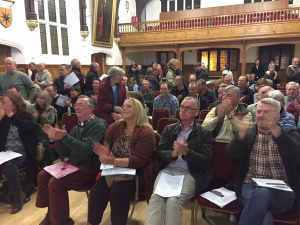 Our application to establish a Community Benefit Society called The Saffron Walden Community Pub Ltd has been accepted by the Financial Conduct Authority. Anyone interested is invited to purchase shares in the society/pub which would give them a vote on all major decisions in relation to the management strategy and how the pub is eventually run.
Whether someone purchases a single share or a hundred, and invests £50 or £5,000, each member of the Community Benefit Society will have one vote only.
In addition, though the value of the shares will not increase, it is proposed that there will be an interest dividend that is paid annually to shareholders, the rate of which will be set annually. Shares may only be sold back to the society.
The Society has received advance assurance from HMRC that the fist share offer will qualify for the Seed Enterprise Investment Scheme [SEIS] and Enterprise Investment Scheme [EIS]. These are government schemes devised to encourage investment in new enterprises and provide tax relief of 50% and 30% of the cost of investment per respective scheme to those buying shares who pay income tax. The Society will seek confirmation that the second share offer will also qualify.
Shares would be eligible for withdrawal from the end of year 3, subject to approval of the management committee and on the basis that any withdrawal will not endanger the financial viability of the Society.
Get involved!
If you are interested in the STRAP campaign, please come along to the next event (details of which will be posted on our website, Twitter feed and Facebook page). We're really excited about our recent Pup up Pub events as they have allowed us to meet regularly, share news and updates, meet new people and old friends and talk about the things that interest us and others – just like we'd do in the Railway in fact. All the events so far have been brilliant, and we expect future events to be better still!
If you can't make it to the next event, submit your email address above and we'll send you further information and news as it arises.
If you'd like to ask any questions about the campaign, or indeed if you'd like to put forward any ideas or make any suggestions, please fill in the form on our contact page.
"One of the best things you can do to help save the pub, is follow the link below and join the Community Benefit Society and buy some shares. Thank you."