What's the plan?
The plan is to save The Railway Arms pub through a community buy-out and re-open it as Saffron Walden's first Community Pub.
Our Campaign
Formerly the Railway Hotel, The Railway Arms in Saffron Walden has stood in the shadow of the old, now closed, Great Eastern branch line since 1865 and is a pub close to the hearts of many in the local area. Situated on the edge of the town centre on the corner of Station Road and Station Street, the pub was renowned for serving some of the best cask conditioned ales and good pub grub to the regulars of the local area.
Featuring in CAMRA's Good Beer Guide for many years, the pub was the centre of the community from near and far and is still fondly remembered worldwide by old students of the nearby language school who were regulars back in the day. Indeed the former landlord of the pub from 1958 to 1998 – Jim Jordan – was awarded the OBE for his tenure at the pub and is remembered by being named on the nearby 'Jordan Close' just along from the building.
After being purchased by Charles Wells around 2014, the new owners closed the doors to the pub on New Year's Day 2017.
Since then our campaign to save this much-loved community hub has sought to re-open the building as a Community-run pub.
The building was granted Asset of Community Value (ACV) status by Uttlesford District Council in 2018 and through the formation of Saffron Walden Community Pub Ltd (SWCP), £250,000 was raised to purchase the pub. Despite SWCP's best efforts, the present owners have refused to sell the pub and indeed are now submitting plans to develop the car park and grounds and re-open the main building as a tied house – plans which STRAP feel are flawed.
Would you like to be involved in our campaign or sign up to our newsletter list? If so, submit your email address or email us through the contact page.    
Chairman's Update: 24th June 2019
Planning Application Decision Delayed
Pop up Pub Review
Many thanks to everyone involved in our latest Pop up Pub at Fairycroft House, in many ways it was our most successful yet. Friday night's race night was great fun and raised over £100 for the Greyhound Trust.
The Family Fun day on Saturday proved to be a great draw with the games and competitions attracting parents and kids from all over town to try their hand at something different. Dave F. achieved the high score in the bowling. Present yourself at the bar next time Dave for your three free drinks.
The Saffron Walden Alternative Games were hugely entertaining with the Egg Throwing, Four Square, Snail Racing and Egg Russian Roulette all proving very popular. Eriksen son son (no23) won the snail race whilst the Egg Russian Roulette champion is Luca Veronese. The Egg Throwing was won by cider hero Paul and friend who brought cricketing skills to bear on the matter. Moonshine Coyote and The Rusty Rockets continued to build their fan base and topped off the event in great style.
Everybody who volunteered their time and efforts deserves a huge vote of thanks and we salute those who helped us through all that beer, wine and food. The bar and food takings broke all records and contributed much needed funds to STRAP's coffers. It was the PuP that keeps on giving and the winner of the Women's World Cup Sweepstake will be contacted with their prize money after the final. We hope to be able announce the date of PuP10 at the same time.
In other news you will perhaps recall that we were expecting to see the owner's planning application decided at the UDC Planning Committee meeting next Wednesday, 26th June. Enquiries suggest, however, that the case officer has raised some issues with the agent and, subject to their resolution, is now expecting the case to be decided next month, perhaps at the Planning Committee meeting on 24th July.
Hopefully the change won't inconvenience anyone who may have made plans to attend next week. We will of course keep you up to date as soon as we hear anything in terms of an officer's report prior to next month's meeting.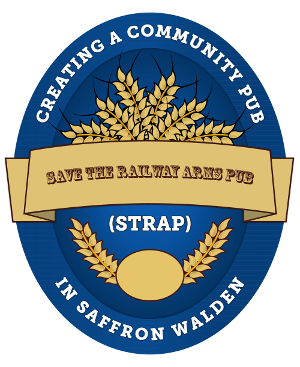 What are the next steps?
£250,000 target reached – now we're trying to buy the pub!
With our share issue closed and the initial target reached we are now trying to actually purchase the pub. We'll send out news as it materialises.
You can still do any (or all) of the following to help (if you haven't already):
Join our mailing list (submit your email address above)

Fill in the Community Questionnaire to give your views about what you would like to see in Saffron Walden's first community pub

Come along to our next Pop up Pub event – details to be posted on the website in due course.
We will post regular information about the proposals for funding the purchase of the pub and the initial renovation and running costs. It is estimated that approximately £400,000 will be required to get things up and running, and the majority of this money (£250,000 to date) has been raised from a community share issue. Other funding has been acquired through grants and community loans.
How to Save the Railway Arms Pub
We are proposing that The Railway Arms pub on Station Road in the town should be brought back from the brink and kept as a pub.
The Railway was officially registered as an Asset of Community Value (ACV) at a district council meeting on 30th March 2017. This was a great victory in the face of strong opposition from the owners, and things have moved on massively since: we now have raised our initial target of £250,000 in share applications, which puts us on a great footing as we attempt to buy the Railway. 
Take a look at our Facebook page and Twitter feed for regular updates on the campaign.
SHARE SALE OFFER CLOSED ON 31 JAN 2018 – £250,000 TARGET REACHED!
Would you like to see Saffron Walden's first community-owned pub?
Save The Railway Arms Pub (STRAP) is a campaign to save a great old public house in Saffron Walden and to create a community pub that locals can be proud of.
Would you like to see Saffron Walden's first community-owned pub?
You can download Share Offer Prospectus, Our Business Plan and our Model Rules below. Please also fill in a Questionnaire to tell us what you'd like to see in the new pub. 
How much is raised so far?
So far 291 people have purchased shares and we have raised £250,000 and thus we have reached our £250,000 target!
Thank you very much for your support.
What is a community share issue?
Our application to establish a Community Benefit Society called The Saffron Walden Community Pub Ltd has been accepted by the Financial Conduct Authority. Anyone interested is invited to purchase shares in the society/pub which would given them a vote on all major decisions in relation to the management strategy and how the pub is eventually run.
Whether someone purchases a single share or a hundred, and invests £50 or £5,000, each member of the Community Benefit Society will have one vote only.
In addition, though the value of the shares will not increase, it is proposed that there will be an interest dividend that is paid annually to shareholders, the rate of which will be set annually. Shares may only be sold back to the society.
The share issue has been assessed by HMRC as eligibale for the Enterprise Investment Schemes which means that investors are able to claim tax relief of 30% – 50% on their investment.
The Share Prospectus and our comprehensive Business Plan have been published and are available to view (see button above).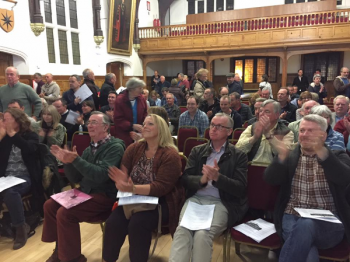 Get involved!
If you are interested in the STRAP campaign, please come along to the next event (details of which will be posted on our website, Twitter feed and Facebook page). We're really excited about our recent Pup up Pub events as they have allowed us to meet regularly, share news and updates, meet new people and old friends and talk about the things that interest us and others – just like we'd do in the Railway in fact. The first three events were brilliant, and we expect future events to be better still!
If you can't make it to the next event, submit your email address above and we'll send you further information and news as it arises.
If you'd like to ask any questions about the campaign, or indeed if you'd like to put forward any ideas or make any suggestions, please fill in the form on our contact page.
"One of the best things you can do to help save the pub, is follow the link below and join the Community Benefit Society and buy some shares. Thank you."