STRAP Pup-Up Pub Events Announced
We would like to announce a programme of Pop-Up-Pub events to be held at Fairycroft House, 37 Audley Road, Saffron Walden, CB11 3HD
We are getting closer to being in a position to take over the Railway itself, but we are planning to take over the nearby (and brilliant) Fairycroft House for a series of Pop-up Pub evenings over the coming weeks/months – next event: Saturday 13th January 2018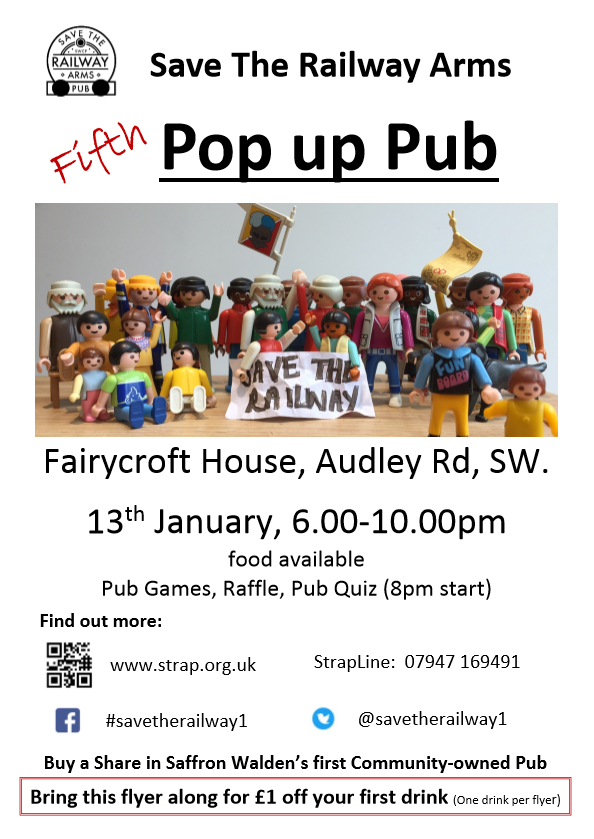 Click here for a printable version of the flyer, print it off and bring it to the Pop up Pub event and you'll get £1.00 off your first pint!
We're really excited about this as it will allow us to meet regularly, share news and updates, meet new people and old friends and talk about the things that interest us and others – just like we'd do in the Railway in fact. Fairycroft House will become the Railway for a few hours each month and we'll be able to support Tim Atkinson and his team in the great work they do there.
These fundraising events will help us in our campaign make The Railway Arms Saffron Walden's first community pub. Share application continue to pour in and have now passed through the £225,000 mark.
However, it is extremely important that we raise more and continue the focus throughout the coming weeks. The more money we raise, the more attractive we will be to grant providers and community lenders.
Please come along for a drink from the bar and perhaps a meal; we can promise that the beer will be good and the menu will be regularly updated. There will be live (acoustic) music, a quiz night, a games room and an open mic night.
STRAP believe that we have a wonderful local community in Saffron Walden which is one reason why we would like to ensure the future of a community hub, The Railway.

If you haven't already, there's still time to apply for shares or to fill in the questionnaire to tell us what kind of pub you want the Railway to be. Or come along to the Pub-Up Pub and have a chat with us!
Pop-Up Pub Events – Can you help?
We need people to help organise, plan menus, decorate Fairycroft House on the day, run the bar, cook and serve food, help us raise money on the nights, maybe play some music, do a quiz and … tidy up at the end (very important).
Whether or not you can make the third event on the Saturday 13th January- the last ones were fantastic and we expect this to be the best yet.
If you would like to save your pub by becoming a community shareholder then complete or download a pledge form and bring it to the Pop up Pub.
To learn more, contact STRAPline on 07947 169491, sign up to our newsletter, or take a look at our Facebook page and Twitter feed.
Where is FairyCroft House?
Come Along to the STRAP Pop-Up Pub
Fairycroft House is easy to get to from most parts of Saffron Walden – check out the map or get directions on Google Maps. If you get lost on the way, feel free to call the STRAPline on 07947 169491.