Chairman's Update – 3rd October 2020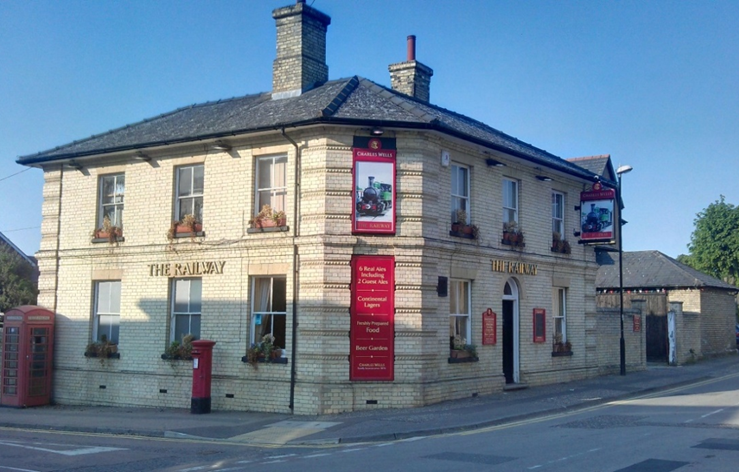 Purchase of the Railway Arms Scheduled for Friday 9th October!
Community Share Booster target reached. £50,000 becomes £100,000
Share Offer extended to 31st October 2020
Volunteer at the Railway Arms
Cider Saturday
Dear All,

I hope that this finds you and yours well and coping with life amid the Pandemic. Wherever you are and whatever normal is and was for you, I'm sure you've faced real difficulties over the last six months or so and we can only hope that you've managed somehow to deal with it and that, amid all the gloom, you've been able to find hope and happiness.

If you've been struggling, in any sense, with anything, I hope the news that, within a week (if all goes to plan!) we'll complete the purchase of the Railway Arms, gives you a boost.  I hope the news that on Friday 9th October Saffron Walden will have its first Community-owned pub will cheer you up. It certainly has me.

Of course none of us planned it this way. We might have hoped that it would have come earlier, maybe months or years ago. Perhaps at a time when we could have run out into the street shouted it from the rooftops, hugged our friends, relatives and neighbours and spent happy hours in a sunny pub garden having a well-deserved pint, a party, a celebration. Circumstances have robbed us of that opportunity – for now, but we know that that time will come, the sun will come out, literally and figuratively and when it does, we'll have a great pub back at the heart of its community.

Even as things get more and more difficult for pubs we can believe that those with real communities invested in them, however they are owned and run, will be stronger, more resilient and better able to face the challenge. I'm sure that, in the case of the Railway Arms, our business model and the sort of More Than A Pub elements and activities that we're planning, and can now look forward to delivering, will make a massive contribution to our prospects. Let's allow ourselves to dream, let's turn our dream into reality.

A huge thank you is due to everyone who has invested in the Railway since our first share offer opened on 4th October 2017, three years ago tomorrow (I remember thinking – and probably saying foolishly – we'll be in by Christmas!). Our funds, raised since then, received an enormous boost on Wednesday when sales in the second share offer exceeded £50,000 and, in doing so, triggered a further £50,000 in equity investment from the Community Share Booster Programme. This takes our combined grant, loan and capital investment fund to just short of half a million pounds!
After purchase we will have a healthy refurbishment fund, but lots of work to do. We've always believed that in actually purchasing the pub we'd continue to attract interest from prospective members and so the committee have decided to extend the share offer until 31st October. We will close it on that day and we'll then begin distributing share certificates. Our target for the share offer remains an ambitious £75,000 but soon you'll be able to buy shares in the Railway Arms, literally in the Railway Arms.  If you have been thinking about becoming a member of our Community Benefit Society, Saffron Walden Community Pub Ltd, now really is the time.

Opening the Railway to customers will be a tremendous achievement and a huge challenge. The garden and grounds, the outbuildings, the cellar, the kitchen, the first-floor accommodation, and of course the pub itself all need work; and that work must, absolutely, be carried out safely. We'll ensure that contractors and our members, volunteers and, in time, staff can be confident of that. Our commitment to health and safety dates to the early days and documents of the Society, but Covid-19 requires particular measures and behaviours as we work towards opening and as we enjoy the fruits of our efforts. It will concentrate our thoughts for a long time to come.

Thankfully our call for volunteers has met with a great response and gardening and decorating groups are now forming. These groups still need members so do please step forward if you feel you can help in these areas, or indeed with the cleaning and maintenance tasks that await us. It's great that keen photographers and filmmakers have offered to help document the changes we'll bring about. Changes that will with a fair wind behind us begin, safely, on Friday 9th October, put it in your diary.

Saturday 10th will see us reprise our apple pressing efforts from 2 years ago. Unfortunately, it comes too soon for the Railway to host, but it's a bumper year for apples and we wouldn't them to go to waste. Paul and others will be pressing apples from far and wide at 43 West Road from 2pm. An invitation is extended to all to drop off apples on the front drive either before or on the day and contribute to The Railway's very own Christmas mulled cider.

Cheers
Dave